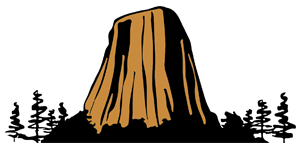 Escalate Your Game
Located in the Black Hills in Hulett, Wyoming, just eight miles from our nation's first National Monument, The Golf Club at Devils Tower is renowned throughout the region as a Private Destination Golf Club. Known for its scenic beauty, awesome changes in elevations, lush fairways, and smooth putting greens, the golf course presents a challenge of skill and strategy. Recognized as one of America's Top Facilities by the National Golf Foundation, and honored in 2007 among Golf Digest's "Best New Courses". Recognized in 2021 & 2022 by Golfweek in the Top 5 Best Private Golf Courses in Wyoming. Members and their guests find themselves met with all the challenges of a world-class golf course layout in a truly picturesque setting.
Fly in and land at our adjoining airstrip at the Hulett Airport and go from Tarmac to Tee in 10 minutes!
Dine at the 77 Steakhouse & Saloon.
Be sure to book a round at our regulation skeet range.
The Golf Club at Devils Tower is where pure sport meets the spirit of the American West.